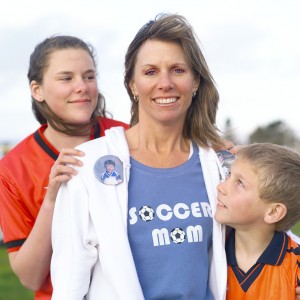 Women discuss their work and family conflicts but we often forget this is not just a female issue.  The reality is that men today have many of the same family and work conflicts as their female co-workers. How many of your male co-workers and managers are divorced or have a working wife? Or have a stay at home wife who still expects her husband to share equally in raising the kids? Probably most of them.
The difference with men is that they don't talk about having to leave work for family responsibilities – they just do it – they just take off from work. Women however, talk about their conflicts.  So men mask how often they leave for family responsibilities and women don't.
In the male-dominated organization, I think there is a lot more empathy for men, especially divorced men, who have family responsibilities. Men sometimes view other men as victims of (vengeful and vindictive) ex-wives and rally to support each other. When a man is trying to be a "good dad" everyone (men and women) rallies to support him because he is aspiring to a higher ideal of manhood.
Working mothers though are taken for granted.  Maybe we are the victims of our own "we can have it all" press.  But we can work to gain support.  The men in the office who have periodic custody of their children have to do it all too.  So while we are being empathetic and supportive, let's also be strategic so we can change the dynamics for all working parents.
First, get to know the family situation of your co-workers and managers.  Know who has been through two ugly divorces and is one his way to his third.  Know which "older" men have young children or stepchildren.  Know who has a physically or mentally disabled child.  Who has lost a child.  Know who is heavily involved with their grandchildren; who is raising their grandchildren.  All of this is easy to learn because men like having women in the office they can talk to about their families.
I had a friend, Lisa, in the office who I nicknamed the Married Man Magnet because the married men were always stopping by her cubicle to discuss their life events.  They came by her desk in a constant stream and she could barely get her work done.  But she knew everything about everyone.
What we learn is that men have just as many family pressures as we do. We learn that the only men that don't have family pressures are the young single guys…at least until the child they had in their teens comes to live with them permanently.
As women we need to give up the illusion that just because we are working moms we have it harder than everyone else in the office.  No one sprinkled magic fairy dust over the lives of our male co-workers so don't believe the image that they project to each other – that they have their lives under control.  When you learn more about their lives, the probability is that you will find a few people who have it much harder than you.
Secondly, talk openly to men about their conflicts. Say things like:
I want to talk to you before the end of the day about X, do you need to leave early today to pick up your kids?
You leave early on Tuesdays to coach your daughter's softball team, right?"
Did you just get back from the Science Fair?  How did your son do?
Don't let men hide the time they take off for their family!  Put it out there in the open.  Ask the questions above in a meeting, in front of everyone.  If you want to know everyone's conflicts try to coordinate everyone to stay a little late to finish a project.  All the family conflicts pop right out.  So realize that even the guy who sends out emails late at night had to leave before he got all his work done and is just trying to catch up.
Promote the idea that we are all in this together trying cope with work, family and financial pressures.  The office can move to the Purple Zone and become very open about balancing work and family.  I think men even more than women appreciate that – it must be liberating for them.
What continues to surprise me is how open men become and how they stretch the boundaries on "what is acceptable."  For example, I am often shocked at how often men bring their kids to work and don't apologize for it.  I think – if I did that 15 years ago, what would the men have thought of me?
The good news is that we can make the workplace easier on ourselves.  We just have to join forces with all our male co-workers and managers who face the same struggles we do.
Empowered women empower men to openly balance work and family.
If you want to subscribe or unscribe to my articles, contact me.