Have you ever heard a manager say "If I have to get down in the weeds then what do I need you for?"  I've heard it many times.
Why do they say that?
Is it just to make you feel inferior – incapable of doing your job?  When I hear a manager say this, my first thought is that he does not understand processes and does not believe he has a responsibility to improve how his department operates.  He sees problems as simple issues needing little more than sheer will to solve.  Or so he is trying to make us believe.
I've known managers who use comments like this in order to distance themselves from a problem.  They are old school, believing they got to their current position because earlier in their career they solved problems such as the one you are now facing.  However, there is something that they don't want you to know – that problems have become more complex and they don't have the tools to solve them.
To understand this situation I want to introduce you to what I call the "Dollars to Donuts" model.  I learned about the Dollars to Donuts when I studied Total Quality Management and understood the power of the concept in making me successful as a manager.
When we picture the organization of companies we typically picture the line and box or tree structure showing who reports to who up to the CEO .  In this model, problems between functional areas are solved at the management levels.  This is what managers do – meet to coordinate and strategize.  Managers spend their days in meetings and on conference calls.
I worked in a few companies where they believed "attend meetings" was the first duty in a manager's job description.  I attended so many meetings that after I held my staff meeting at o'dark thirty Monday morning, I didn't interact with my staff again until at least late Wednesday afternoon.   I had no time to coordinate with my staff on the week's priorities.  In one company I literally attended 3 meetings a week with the same managers where we discussed the same issues/topics at every meeting.  The only difference was who took minutes and formatted them out in order to satisfy the requirements of their senior manager.
This focus on attending meetings disconnects managers from their staffs and the real work.  Problem solving is ineffective because the managers who need to lead are not around.  The bigger problem is that these companies don't understand a manager's true role – they don't understand the "Dollars to Donuts" concept.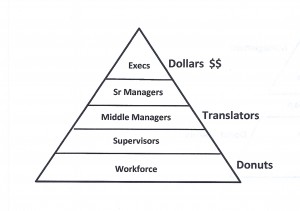 This concept understands that money is the universal language in business.  Senior managers and executives talk to the world outside the company in terms of money.
At the lowest levels in the company the workforce talks about donuts (things) – how to make the donuts, how to sell the donuts, how to make the donuts taste better, what type of donuts to sell best.
So with executives talking dollars and the workforce talking donuts, there is a disconnect, a language barrier.  This leaves middle managers serving as the translators – translating to senior management from donuts into dollars and to the workforce from dollars into donuts.  In order to translate, it is critical that middle managers understand the company's management and operating processes.  This requires managers to cross functional lines.  And once functional lines are crossed, complexity enters into the equation.
Gone are the days when a manager can direct his staff to "Do X" and the problem is solved.  His staff can "do X" but A, B, C, D, E…etc. which are done by other departments affect his department's performance.  Using the tree structure to solve problems, how high does a problem have to go in a company for resolution?!  The higher you go in a company's management structure, the less proficient the managers are in speaking "donut", they are fluent in "dollars" so there is no way to get comprehensive and effective solutions.
Using the traditional management style, at some point frustration sets in because no one has effectively dealt with complexity.  If the manager believes he rose to his current position because he could say "Do X" and the problem went away (notice I did not say "solved") perpetuating, complex problems become a thorn in his side.  He has to make them go away.  He becomes defensive.  Because he never learned translation, how to solve problems in terms of processes, complexity has rendered him ineffective.  What does he do?
He makes statements like "If I have to get down in the weeds what do I need you for?"
He insulates himself from problems he cannot solve and puts a buffer between himself and problems.
This type of manager is the most difficult type of manager for women to deal with and probably the biggest obstacle to women trying to rise in the company ranks.
This manager becomes all about protecting his ego and status.  And to help himself, he hires Lieutenants.
Have you ever attended a meeting run by a manager where there are one or two really obnoxious men who seem to mouth off at every question or discussion?  Their comments either shut down discussion or become a shouting match.  The manager doesn't stop their behavior, he lets them be unprofessional, if not abusive.
This is a manager who has Lieutenants.  They are often called his "Golden Boys."  It seems they don't do much or even know much but they still get ahead…and quickly!  Wherever the manager goes, they follow.  If they are in a lower position, when a higher position opens up, they are automatically promoted.  No one else may have even known the position was available.  Lieutenants seem to bully and bulldoze their way up the corporate ladder.
As I was working on this article, I met with a man and told him about my website.  He then proceeded to tell me a story about a manager he worked for early in his career that dangled the carrot of fast promotions.  He was being recruited to be a Lieutenant.  It was interesting to hear about this from a male perspective and the manipulation the men deal with.  The man I talked to understood that his manager was really just using him but that's how the promotion system worked.
Managers with Lieutenants can be disasterous for a company.  The Dollars to Donuts concept now looks like this: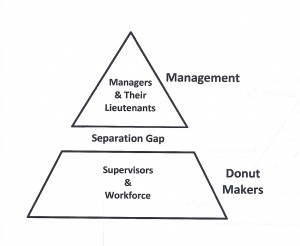 There is a Gap between the regular workforce and the manager with his Lieutenants.  The job of the Lieutenants is to maintain and protect this Gap – let nothing cross the manager's protective barrier.  Many Blue Zone companies look like this.  It is a Boy's Club.  For a woman in this environment, it can seem like a hopeless situation.  However, if you understand processes and use them to solve problems, you can beat this system.
As you know, I hate it when women are told to take on the aggressive men in their company – to openly compete with them.  You can't.  This is because you are trying to impress a manager by taking on his Lieutenants.  The manager has too much invested in his Lieutenants – he has already backed them and promoted them – he is not going to allow someone else to outshine them and open the door for someone to question if he promotes the best people.
So, rule #1 still applies – stay out of the Blue Zone – don't engage the Lieutenants.  I've seen women and men try to outshout, outtalk the Lieutenants.  It doesn't work!  The men usually back down because the Lieutenants are so aggressive.  When women engage, they come off looking emotional and hysterical.  Every time I've worked with an organization where this takes place there is one word that sums it all up – Dysfunctional.
Don't be tricked into engaging.  It is better to sit quietly in a meeting taking notes and plan a larger strategy.
A company where managers have adopted this management style will always be plagued with problems because the managers and their Lieutenants are not problem solvers.  There is a huge opportunity to take the lead in solving problems.
Get down in the weeds!  When I was working at one dysfunctional company, I was told that I should just tell my people what they need to do and expect them to do it – that I spent too much time interacting with them on problems.  But in talking to my staff, I knew the problems we faced were systematic and they could not solve them on their own.
Instead of talking about "weeds" I used the analogy of diving into a 12' deep pond.  At my normal management level I should swim at 6' below the pond surface.  But if there was a problem I would dive deeper.  How deep?  As deep as necessary – on some problems I dive down 8', on some all the way down to the scummy, scuzzy bottom.  This means that there is no position too low where I will not sit down next to the person in that job and have them explain to me how they do their job and the problems they encounter.
My attitude has been critical to my success.
When I was in the Air Force I had a position – Chief of Resources and Requirements.  Under me was the Chief of Production Control.  Under him was the Supervisor of the Customer Service Unit.  And under him were the Customer Service Representatives.
In my position I managed the relationship with the base senior leadership.  I often got reports of bad service.  I needed to figure out why.  I didn't go to the Chief of Production Control and tell him "Fix it."  In turn he couldn't tell the Customer Service Unit Supervisor to "Fix it."
Instead, to the shock and horror of many I sat down with the customer service representatives (lowly airmen with only one or two stripes) and asked them what issues they were facing.  From there I restructured some procedures and implemented new policies that changed our customer relations.  We soon had outstanding customer relations.  Years later as a consultant, I found that same problem repeated in every organization and knew how to solve it.   At one company, I competed for a large job against a man many considered to be the best in the industry.  But he couldn't solve the problem.  He and his staff NEVER would have sat down and talked to a customer service representative to figure out how to solve the problem.  It was too far down in the weeds for them.  They only wanted to talk to people at their level and maybe one level below. But because I talked to Shirley for 3 hours I got the contract and then raised my rate – I got paid the same as the man who was 32 years older than me with 32 years "more experience."
Being able to solve problems and make things happen is powerful.  It just takes getting your hands dirty by getting down in the weeds.
When you become the problem solver, expect conflict with the Lieutenants.  When you present an idea or solution, expect them to mock you and tell you "You're wrong!"  "That won't work!"  That's their job.  You are closing the gap between the workforce and managers and their job is to keep the gap open.  And I may be a cynic, but I've seen it done, if the Lieutenant finds out about your solution, he may present it to the manager before you do and claim it as his own.  I've even see the manager and Lieutenants mock a solution then present it at another meeting with senior management as their idea.  The person who came up with the idea didn't even know about the meeting with senior management and lost all credit for their hard work.
To circumvent these problems, I took to presenting the solution in an email sent out to everyone and anyone remotely involved in the problem.  I had documentation that it was my idea.  It takes confidence to put your solution out there because you will still get a negative response full of sound and fury from the Lieutenants.  But it's not that hard to defend – who can refute you??  You are the only one who knows what happens down in the weeds – no one else has been there!
A few years ago I successfully defended an idea from the attacks of a Lieutenant who had significantly less experience than me.  Over time my idea proved to be right.  Several months later, on a conference call we discussing a problem on his project that he was trying to bulldoze over because the subcontractor wanted more money.  I was asked by a senior manager if I had the same issue.  I said "no".  Then the dear little Lieutenant tried to make it sound like I was too incompetent to know whether or not the problem existed.  I explained that the issue came up and how we took care of it in 15 minutes and prevented it from growing to the size the Lieutenant's.  The Lieutenant quickly responded with "that won't work!"  The senior manager on the call broke in and reminded him of our previous experience and how I was proven right.  The senior manager then directed him to do what I did.  End of discussion.  Yes!!!!!!
Get down in the weeds because then you know how things work, you have knowledge that no one else has.
One more thing.  Next time a manager does the "if I have to get down in the weeds" thing, you can think it, but I don't necessarily recommend you follow in my footsteps and give this truthful answer: "If I can solve every problem on my own, then what the heck does the company or I need you for?"
Yeh, – the good thing was that we were discussing a personnel issue and I copied the head of HR on my email.  She got a kick out of the blunt truthfulness of my response.  Whew!!
Empowered women get their hands dirty pulling weeds.
I want to hear your thoughts and opinions so leave a comment!!
If you want to subscribe to my articles, contact me.