It's hard for me to believe that after 30 years, women are still discussing working versus spending time with family – it is an issue we should have settled years ago.  It's actually very simple – do what you think is best for you and your family.
You don't have to meet anyone else's expectations.
You don't need to justify your decisions.
Just be realistic about what you and your family really need.
I was part of the generation of working women who first got embroiled in this debate.  If a woman didn't work then she wasn't contributing to the feminist cause.  If she gave up working to stay home, then she was a drop out – she didn't have what it took to have a career and was hiding behind her children to mask the truth.
Ouch!  The criticism was brutal!
In response, stay at home mothers sought to elevate their status – they were partaking in the noblest of vocations – motherhood.
As it so often it is in our culture, the two sides drove to extremes.  I knew a lot of stay at home mothers who were over the top in their motherly righteousness.  They proclaimed that men cannot do what they do!  Motherhood was how women showed their superiority to men – not a career!
This elevation of motherhood caused my generation of mothers to really dote on their children.  At the time parenting was breaking away from traditional discipline.  There was a lot of concern over protecting self-esteems.  We were supposed to explain everything to our children, no matter how young.  And we were never to discipline our children in public.  There was a lot of extreme behavior that set in.
Children were picky eaters with long lists of foods they would not eat and special preparation instructions for the few they did.
Rooms overflowed with toys.  Santa had to drop off a couple of elves at Christmas just to keep up with the year round demand!
$300+ birthday parties were required every year.
Gifted children were common – a lot of second graders could read at a high school level!
Children were multi-talented excelling in sports, dance AND music.
Mothers had to be at their children's beckon call.  During dance lessons, mothers took turns peering through the narrow window, waving to their child.  If mom didn't wave it was equated to abandonment.
It was a time when children were put up on a pedestal and mother's lives expected to revolve around them.  I couldn't relate.
What I figured out was that these women had one thing in common – they had no sense of themselves.  They had no identity.  No one ever told them they could!  They were raised with the stereotypes and had no concept of a persona beyond mother.
In the 1950's and 60's women were known as Mrs. John Smith and couples as Mr. and Mrs. John Smith.  While women of my generation broke away from this convention, many didn't acquire their own identity.  Instead they become Tyler and Jennifer's mommy.  Identity and status now came through children.
Today's young mothers are living with the influence of my generation.  We gave today's mothers unrealistic expectations of what it means to be a mother.  A working woman can never meet these expectations.  A woman with a strong sense of herself who chooses to leave a career and stay home can't meet these expectations!
And she doesn't need to!
Being a mother isn't about living through your children!  It isn't about putting your children first or making the world revolve around them.
When I thought about being a mother I thought back to my childhood to figure out what was important to me.  I realized I didn't keep track of how many times my mother met me at the door after school with milk and cookies.  I decided that the most important thing I got from my upbringing was the opportunity to figure out who I was and to be who I was.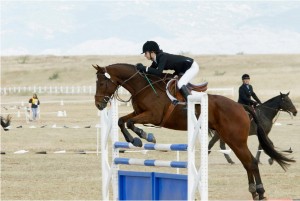 That's what I wanted for my children.
With my daughters it wasn't hard to do.
When my oldest daughter was 4, she announced that she wanted to ride horses.  All I saw was $$ signs!  For 5 years I tried to lure her away with swimming, dance and gymnastics.  It didn't work.  After putting her off for 5 years I finally gave in.  My second daughter followed in her sister's footsteps.
Our lives blended together.  Their riding didn't take precedence, it was their activity.  It was a way for them to connect with and express who they were.  It gave them goals and challenges.  It gave them an identity.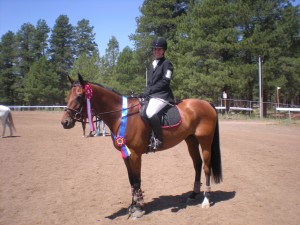 I took my daughters to the barn after I got home from work and went running while they got ready to ride.  Some days I watched their lessons, some days I ran errands, some days I got caught up on work.
I wasn't there to pick them up every time they fell, broke a nose, an ankle or a hip.  That didn't make me a bad or a neglectful mother.  It didn't make them resentful.
As my job got more demanding, and their riding got more demanding, I paid another girl at the barn to take them a few days a week.  I got up at 6 am Sunday mornings for years so they could muck out stalls and earn extra lessons.
Much of my life was entwined in their riding and still is.  I spent a lot of weekends at horseshows.  I made mini-vacations out of long horseshow weekends because I enjoyed them.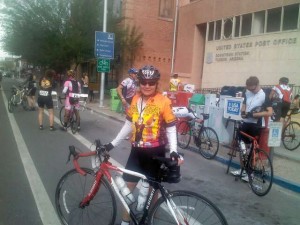 And now that my girls are grown, they reciprocate – they are my support team when I cycle!
Compromise.  Respect for each other and all time demands.  We simply worked it out.
I am proud of who my daughters have become.  By encouraging my daughters to be who they are, by supporting their ambitions, they are living their lives on their terms.
I don't know what more a mother could want.
Empowered women raise their families on their terms.
I want to hear your thoughts and opinions so leave a comment!!
If you want to subscribe to my articles, contact me.