Have you ever been called infuriating?
I have – many times – "You are the most infuriating woman I've ever known!"
Even though it was meant to belittle me, I take it as a compliment.  My reply is simply "Thank you."
The scenarios in which I've been called infuriating are always the same – a man is trying to intimidate me.
Years ago, I was hired into a national company that had just bought a local company.  A female manager I supervised who had been part of the old company wanted my position.  She was very upset she didn't get it.  She rallied the other manager I supervised to fight her battle for her.  God, was he obnoxious!
He openly threatened me, challenged me and refused to do things according to the new procedures.  Together they spread rumors that I was incompetent.  I didn't back down so one day he came into my office and went off.  I just sat back in my chair, looked at him and said "You need to leave."
After several weeks, I got clearance from HR to discipline him.  I called him into my office and stood in front of my desk while he sat in a chair.  I explained the problem and told him that he had to either get on board with the corporate changes or leave.  "Get on board or there's the door."
He started to yell at me and I simply repeated "either get on board or there's the door."  That is all I said.  I probably said it five more times before he screamed "You are the most infuriating woman I've ever known!"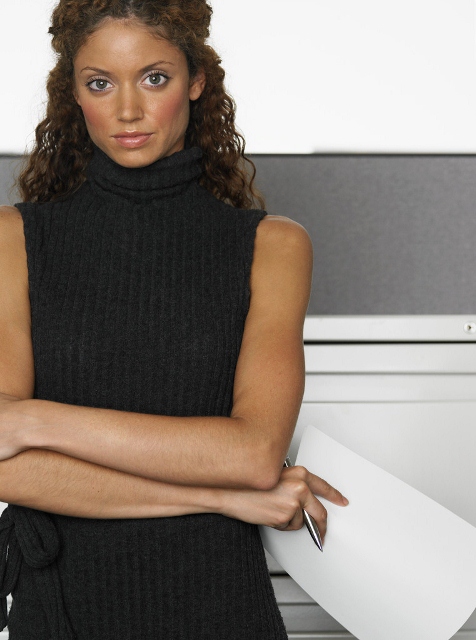 "Thank you.  Now you need to use the door and leave."
A few weeks later, I went to his office because I had to give him an assignment which I knew he would challenge me on.  I stood in front of his desk and told him what needed to be done.  He challenged.  Then he did a body language power play.
He pushed back in his chair, leaned back in it, opened up his chest, arms and legs – you know the position, he was making himself look really large and immobile.
There was only one problem – the way he was sitting back pulled his pants really tight across the crotch area leaving nothing to the imagination.  Front and center was a hole at the bottom of the zipper through which I could see his tighty-whities.  I started to laugh.  (All these years later this is still emblazed on my brain!)
To hide my laughter, I put my hands down on his desk and leaned over it.  I had to keep looking down at the desk because every time I looked at him, my eyes got drawn to the hole.  It seemed like I was positioning myself to stare at the hole.  This made him so uncomfortable!  (Yes, I enjoyed that part of it.)  Eventually he sat back up and folded his hands in his lap like a demure schoolboy.
As I turned to leave his office, he repeated "You are the most infuriating woman!"
I looked back at him and smiled "Yes I am."
He soon used to the door and found another job.
I learned that the best response to a man intimidating you is to be infuriating.  Do nothing.  Don't engage.  Just look at him.    
Let him stand there and act like a jerk.  Pull out a nail file and do your nails and look at him as if to say "let me know when you are done embarrassing yourself."
Just because a man is trying to dominate and intimidate who says we have to respond?
When men try to intimidate each other they engage in a battle for power – who is going to come out on top.  That's what men do.  But we are women.  We don't need to engage, we don't need to play the game, we don't need to go into the Blue Zone.
So, don't advance.  Don't retreat.  Stay where you are – don't act or react based on their behavior.  Show their behavior is powerless.
Take a line from Macbeth – "full of sound and fury signifying nothing."  I have mumbled that line countless times listening to men go off.  There is power in thinking this way.
I love being called "infuriating."  To me it is one of the greatest compliments about my personal strength.
Empowered women know the power of being infuriating.
I want to hear your thoughts and opinions so leave a comment!!
If you want to subscribe to my articles, contact me.
Image credit: <a href='http://www.123rf.com/photo_4401952_man-and-woman-in-business-attire-arguing-isolated.html'>kreefax / 123RF Stock Photo</a>