Have you ever noticed years that singers have their biggest hits when they sing songs that they pick or write themselves, not what the industry tells them to sing?  They do best when they connect with a song that expresses who they really are.
When I think about this Garth Brooks always comes to mind – not quite country and not quite rock.  He didn't try to fit into a music industry genre – he created his own.  There is something energizing and powerful about that.
Being around a lot of women entrepreneurs lately, I noticed that women start businesses that are an expression of who they are.  Their businesses have a meaning or purpose to them.  Women personally connect with their businesses.
Remember these lines from the movie You've Got Mail?  Kathleen Kelly is sad and upset about her store closing:
Joe Fox: It wasn't… personal.
Kathleen Kelly: What is that supposed to mean? I am so sick of that. All that means is that it wasn't personal to you. But it was personal to me. It's personal to a lot of people. And what's so wrong with being personal, anyway?
Joe Fox: Uh, nothing.
Kathleen Kelly: Whatever else anything is, it ought to begin by being personal.
I love those lines!  It shows the difference between the way men and women think about their businesses.  We are told to admire men who go into business to make money and achieve status – men who conquer it all!
Make Money => Gain Power => Rule the World (Be A Plutocrat)
Women can't relate to that.
I saw an interview with Indra Nooyi, the female CEO of Pepsico, and I couldn't help but contrast her business attitude to Jack Welsh's.  Welsh, a business icon, built GE into an empire of unrelated companies, some of which have since been sold off.  Nooyi on the other hand, understands her company, the customers and the global marketplace.  She is integrating and connecting allof the Pespico products so they work together and create a strong, complete brand.  Pepsico doesn't buy a company or sell a product just because it thinks it can make money at it – a product must fit into the Pepsico brand – into who Pepsico is.
And as for the Cola Wars, they are a thing of the past.  She isn't going to engage.  Cola Wars are part of the Blue Zone and Nooyi is building Pepisco in the Purple Zone.  As a result, Pepsico is thriving.  For women our business model is:
Understand Who The Company Is => Integrate the Brand => Prosperity
Prosperity and wealth is our result, not our driver.
Women don't have to use the male business philosophy and don't have to define "success" in male terms.  We can write our philosophy and redefine "success".  We can connect with and personalize our business/work, make it an extension of who we are.  (True work-life balance)  Business can have more meaning to us, we don't have to use it as a means to gain status and power.  Conquering or controlling the world doesn't have to be our ultimate goal.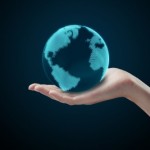 As women our power comes from connecting with the world and expressing who we are as part of it.  We do this at work too – understand who we are as part of the business, express ourselves and build the connections within the company.
This will naturally draw people to us, just as they are drawn to the singer who truly expresses himself with songs.  There is something naturally powerful in this – this is foundation of true leadership.
Women naturally have the power to energize, unite and lead. 
In the male-dominated workplace you will continue to be told you need to rise up in status in and exert yourself downward to gain control.  That is how many men define leadership.  But you don't have to listen, you can remain who you truly are, you can lead on your terms.
And if you are wondering which is the more powerful style of leadership, you only have to look to history and note all of the revolutions that have taken place.
We do have an amazing power to lead!
Empowered Women Personalize Their Work To Become Leaders
Share your thoughts by leaving a comment below or on Facebook
To subscribe to my articles, contact me or complete the form on the Home Page