Last week I heard a woman say (paraphrasing) "Women should stop using teamwork as something they are better at than men.  Men play sports and use teamwork more so they are better at teamwork than women."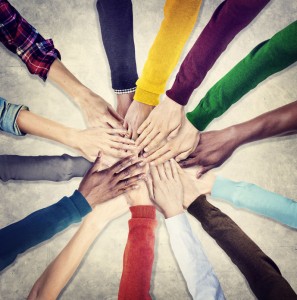 My problem with this statement is that understanding teamwork through sports gives us a limited perspective of teamwork.  Teamwork has many deeper, richer and more powerful applications.  We have to understand how women use teamwork to fully appreciate the true power of teamwork.
We understand that teamwork is the cooperative and coordinated effort of a group of people acting together in a common cause.  Each person on a team has a function and their actions have to be harmonious with all of the actions of all of the other team members.
When teamwork is used in sports, the common cause is to defeat the other team and win.  Sports tie teamwork to competition and winning.
In order for the team to win, it needs the best players.  That drives the team to look for A players.  Realistically, it is difficult to have a team comprised of only A players.  Most teams have a few A players, a lot of B players and few C.  To make up for the shortcomings of the B and C players, the team needs an MVP, a player whose skills are superior.  We learned this in elementary school when broke into teams at recess.  Each team captain wanted to choose first so they could get the MVP on their team.  In my school it was Randy Curly.  Every time it was Randy's turn to kick in our game of kickball, he kicked a homerun.  Randy and MVP's secure the win.
But when we rely on individual stand out performances and MVP's are we really promoting teamwork and working together?  Or are most team members just fillers used to showcase the MVP?
When individual team members are allowed to stand out from other team members, it invites competition amongst team members.  There can be ball hogging.  The objective of working together to achieve something great can be lost to individual ego and personal glory.
Since competition can degrade teamwork, sports don't always give us the best representation of teamwork.
Women use teamwork to enable many individuals to function as one entity.  When women work together there is a high level of synergy and intuitive action.  Women are continuously aware of what other team members are doing and when they see another team member needing help, they step in and give that help.  The team continuously rebalances workloads so they all finish at about the same time.
I am sure there are a lot of women who disagree and are saying "Women don't work that way!"
And they are right because women have been taught to emulate men.  They have been taught to replace their natural teamwork with competition.  They were taught they need stand out performances and to be MVP's in order to compete with their male colleagues.  And when women go into a workplace feeling like the underdog, then their sense of competition is heightened and teamwork suffers.
There are also many women like me who work with men and don't get to practice our natural female teamwork skills.  I try using my collaboration and synergy skills with men but it was like playing catch where I throw the ball and no one throws it back.  It wasn't until I started supervising women and participating in women's circles that I got to reconnect with my feminine teamwork skills.
For me the difference between how men and women approach teamwork was driven home a few years ago when I attended a seminar.  The instructors noticed that for the first time they had enough women to form an all-female team for an exercise.  They wanted to see if there were differences between how men and women completed the task.  For the exercise we were given stacks of yellow Post-its and 25 minutes to build something.  All of the women except me were in traditional roles and worked with women.  So I felt a little out of place as they immediately started talking.  I will admit that my mind started racing through stereotypes especially when they decided to build a purse.
Fearing too much female energy, I decided to balance it with a little male energy by driving the work and keeping us on task.  In other words, I was afraid they would talk too much and we would never get done in our 25 minutes.
We made assignments and began.  After 5 minutes, with nonstop chatter, I noticed two women trade assignments, soon followed by the other two trading assignments.  They never discussed trading work, it just happened.  Then after 12 minutes, the two groups switched assignments with each other, again without saying a word except for the nonstop talk about shopping for purses.  Inside, I was freaking out.  Scared we would get off track I brought up how we traded assignments.  We took a minute to assess, improve the design and reassign tasks.  The talking never stopped and I learned more about purses than I ever knew.  We finished on time with a perfectly functioning handbag.  It was really cool!
As for the men, two teams attempted a city scene.   But each team member worked independently and when they assembled their cities they wiggled like Jell-O.  It was obvious they didn't have the synergy of women.
The lesson I learned is that true teamwork requires a balance of male and female traits.  When both are present we can have great achievements.  Luckily for all of us, the Super Bowl is our annual national reminder of this.
Every year in the week leading up to the Super Bowl a sports reporter asks a player who he thinks is the most important player on the team.  And every year the answer is the same – no one is the most important player on the team.  While every player is highly skilled in his position, they are not the league's best player.  It is how they work together that makes them great.
Last year, I heard a player explain the team's performance by saying that they practiced and worked together so much that they got to know each other intuitively.  They learned how to play intuitively and work as one entity.  Listening to him I immediately thought – they achieved the synergy women naturally have.
Great teamwork is achieved by blending the intuition, collaboration and synergy of women with the driving action of men.  With great teamwork, we have great achievements.
Championship teams remind us that the greatest feelings of victory don't come from defeating an opponent, they come from achieving more than you believed you could.
Empowered Women Elevate Teamwork Above Competition
Contact me to receive new articles
And don't forget to share!