Sexual harassment is back in the headlines.  And it is pretty much a repeat of what happens every time the issue is raised.  There is a lot of sensational media drama as the story swirls around pitting her word against his.  Without witnesses or proof there is no resolution and no accountability.
As women we still think we've achieved something because we "increased awareness" and shined a light back on an important issue.  But in reality we've done little to help women feel they can take a stand and get justice.  We've done little to make women feel they will be believed.
At the heart of the problem is that we no longer have a definitive line that says "You don't treat women that way."  I am old enough to remember when that line existed and there was more gentlemanly behavior.  Over the years I watched the line become blurred and erased.
One reason why is because we empower every woman to draw her own line as to what offends her.  What offends one woman another woman lets drop.  So there a lot of different lines.
Each woman also draws more than one line.   Most of us divide inappropriate comments and conduct into three categories.
The most flexible category is all the stuff we roll our eyes at and blow off.  It is "inappropriate" but we aren't so sensitive that we are personally offended.  We can even find some of it funny.  We know that if we call men's behavior "unacceptable" then we also have to police some of our own.
I remember when they guys in the shops were told to take down all of their Snap-on Tools calendars because they were labeled "offensive" even though there were no women around.  They protested because the secretaries had Hot Fireman calendars out in the open in the office.   After some good and eye-opening discussion the Hot Fireman calendars were banned too and all the sexy calendars were relabeled "unprofessional." (Even if the calendar was to raise money to save puppies – Lifeline Puppy Rescue)
At the opposite end of the spectrum is the category of all of the comments and actions that are worth taking a stand against.  These are the sexual harassment situations we speak up about immediately – sometimes on our own by simply saying "Stop It" and sometimes by reporting it.  We expect the behavior to stop and the offender to suffer the appropriate consequences.
In between these two categories is all the murky stuff.  In here we find all of the comments and actions we find offensive and consider sexual harassment but don't report.  We don't know what to do about it, so we let the offender get away with it.  We buy into the idea that it isn't worth the hassle or that nothing will come of it anyway.  This category makes us feel unhappy with ourselves because we want to take a stand but don't.
There are a myriad of reasons why we don't report an incident.  I've been in that situation.
A male colleague made an offensive comment and I didn't report it because I didn't think my employer would treat the situation properly.  Two weeks later the man's employer approached me because they had complaints about him from other women.  I told him the man made an offensive comment but I needed a day or two to think about it because I suspected my employer would handle it incorrectly.  Ironically I trusted the man's employer to handle the situation with complete integrity.
I decided to report the incident.  The man was fired.  And my employer did as I expected – it was mishandled in a manner that was even more offensive than the original comment.  What was done fell into the category of reporting immediately and wanting consequences.  Fortunately when I reported how it was mishandled, my complaint was handled appropriately and I felt vindicated.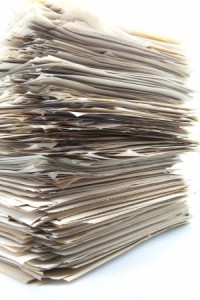 When we get into this murky category there is an important change we need to make in how we deal with the incident.  Even though we don't report it, we document it!
I document incidents by sending an email to myself.  I like this method because it automatically records the date and the content of the email can't be altered.  It is also easy to file away on your computer for safe keeping…just in case you need to pull it out later.
I typically write the email while I am still at work while the incident is still fresh in my mind.  The email should states all of the facts about what happened, how you felt about it and why you didn't report it.  It doesn't have to be eloquent.
If you have a good friend and confident, copy them on the email or forward it to them.  Have them send back a reply that they received it.  They are your witness.
I typically send the email from my work email to my personal email account because I think it adds a little extra credibility.  But then I also delete it from my work email and empty the bin.  (See my article Why You Should Keep Professional and Personal Separate In The Workplace.)
Make sure you also use your email to document the incidents you report – no matter how supportive your workplace seems!  You can also document all kinds of murky incidents at work including safety and ethical issues.  I've used it a lot to document when I saw someone else being treated inappropriately who wouldn't report it.
We should never assume we are being singled out and are the only one being treated inappropriately.  I guarantee you, you are not alone.  The person who is inappropriate with you is also doing it to someone else.  It could be women in other departments, female clients or outside associates.
It could even be a male colleague.  In an environment where women experience inappropriate behavior, men are also harassed and bullied.
Without documentation all the behavior in this murky category stays a dirty little secret.  But with documentation comes the power to do something.
Word about inappropriate behavior eventually gets out.  The stories start and people discreetly talk about their experiences.
You realize this is a bigger problem and there is a pattern of behavior.
Because of your emails you now have documentation and proof.  You can take a stand.  Even if each of the single incidents isn't "that bad" the volume or repetitive nature of them, make them worthy of reporting.  You can do something about the scummy little secret that pollutes your workplace.
All too often we brush off behavior in the murky category and regret it later.  But if we document the incident we can say or do something about it when the time is right.  Even if we don't take a stand for ourselves, our documentation may give credence to someone else who is taking a stand.
We have the power to reduce the endless swirl of he-said-she-said that stagnates this issue.  We can build the credibility that encourages more women take a stand so we build momentum.  In time we can re-draw the definitive line where we all agree "You don't treat people that way."
Empowered Women Document, Document, Document!
For more articles on harassment and discrimination go to  The Ugly Stuff article category
To subscribe to my articles Contact Me
Express Yourself – Leave a Comment / Share this article
Follow The Woman In The Room on Facebook for more new perspectives on empowering women