When I began my career my male colleagues didn't know how a female engineer would be different from a male engineer.  They soon discovered the difference – "She can write!"
At first I laughed because engineers are notoriously bad writers so it wasn't difficult to do better.  But then I saw the danger in this acclaim.
Instead of being seen as engineer, I could be seen as a woman only and get pushed into a traditional female role.
One year later my fears became a reality.  I was moved to a new job where my overwhelmed boss discharged me to help write performance reviews and award packages.  I sat in the back corner of the small room occupied by the two secretaries with a typewriter on my desk.
I knew I had to change my situation.
I soon discovered an upside to my new location – everyone talked to the secretaries.  I soon learned about every issue and problem in our department.  I realized there was a big beautiful world of opportunity out there – I just had to figure out how to get out from behind my desk.
Opportunity soon knocked when a supervisor came to the secretaries begging for their help in rewriting the Wastewater Treatment Plan.  The secretaries quickly volunteered me.
Eureka!!!
I had a perfect excuse to get out from behind the desk.  I told the supervisor I needed to understand how things worked so off we went to the shops and the wastewater treatment plant where I talked to the men about operational issues.  I gladly took over rewriting the plan.
The next thing I knew I had the Snow Removal Plan, the Vegetation Removal Plan, the Flood Control Plan and the Traffic Control Plan sitting on my desk to update and rewrite.
Writing these plans took me all over the Air Force base I worked on and exposed me to the larger base mission.  I met and talked to everyone.  I learned how my department was supposed to support the mission and where it was falling short.  By the time I left that assignment I had more operational knowledge than any of my male peers.
At my next assignment I sold my knowledge to my Commander and landed a new job normally given to someone with at least 6 more years of experience.
About a month into my new job, my supervisor was pulled away to handle a crisis.  He gladly dumped some of his responsibilities onto me, especially the monthly presentation to the Wing Commander, which we called "the monthly bloodbath."
I should have been terrified but my earlier experience taught me how Wing Commanders and senior officers wanted information presented to them.  I changed up the presentation and to everyone's shock I survived my first presentation.  Over time those monthly presentations made me very comfortable in public speaking.  I had a new and valuable skill.
I also I realized technical knowledge coupled with strong communication skills is very powerful.  Too often the person giving a presentation is just a speaker – they aren't the person with operational authority.  I however had operational authority – I could present issues, answer technical questions, implement the decisions and then discuss the results at the next presentation.  I eliminated the middle man (my supervisors) and established direct communication to higher level decision-makers.
I became the person they came to, to get things done.
After leaving the Air Force I continued to combine technical knowledge and communication skills.  I got a job conducting an operational audit for a government contractor where I uncovered a serious problem.   My report went right up the chain to senior management.  They loved my report and I was soon offered a new job writing proposals.
My writing skills were once again front and center and giving me the opportunity to develop more  professional skills – proposal writing, marketing and contract negotiations.
I took the job.  However, I remained leery of being seen more as a writer than engineer.
Many years later I proved to myself that I was correct to be leery.  I had two job offers on the table – one to write proposals and one to run an operational department.  The job running the department paid 33% more.
I realized I always had my priorities right – operational and technical skills were more important.  They were the key to better pay and advancement.  Communication skills were supplemental – useful to distinguish and leverage myself, but they should never be my primary workplace skill.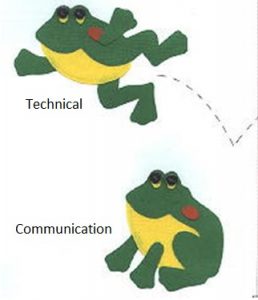 All through my career I used both my skills.  If I established myself with technical skills, I then used communication skills to distinguish myself.  Likewise, if communication skills could get my foot in the door, I used them and then found an opportunity to apply my technical expertise.
Many men have a hard time understanding how I could do this because the male-dominated workplace believes you can only excel at one skill.  Consequently I've been asked countless times: "Are you an operations person or a proposal writer?"
I answer: "I do both" and watch their heads explode!
For women it is easy to fall into the trap of having to choose between our skills.  These choices often maneuver and trap us into more conventionally female jobs that pay less and deter our advancement. 
This is why we should never conform and never choose.  Instead we should learn new skills, leap frog them over each other and leverage our skills to distinguish and advance ourselves.
Empowered Women Use All of Their Skills

Find this article helpful?

Sign up to receive more and check out my New Book!

Take a quick moment to share