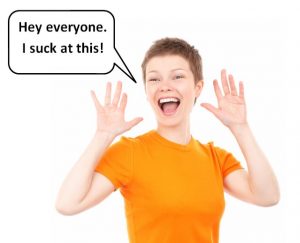 The true secret to success is being yourself – your true authentic self, full of strengths, weakness and quirks.
We all gladly embrace our strengths.  We love to show them off.  But we should also be proud of our weaknesses and quirks because through them we find real strength.
Embracing our weaknesses and quirks demonstrates confidence.  Declaring them out in the open makes us strong.
We are taught our weaknesses and quirks are something we should be ashamed of so we try to hide them.  That makes us vulnerable and insecure.  We are afraid of being found out. But when we put them out there – no one can hold anything over us – there is nothing left to expose.  We have freedom.
For example, I can do many things as well as a man.  I like to cycle and I like it when I pass men with big calves.  It makes me feel good.
But don't ask me to throw a ball.  I throw like a girl.  No, actually a 6 year old girl throws a ball better than me.  When I was in middle school and we tried for the Presidential Fitness award, I was the top girl in all of the physical tests except for throwing the softball.  I didn't get the Presidential Fitness award because I couldn't throw a freaking ball.
I can make business decisions and solve problems all day long.  But don't ask me where to eat.  My mind literally goes blank and all I can say is "I dunno know."  On weekends I get dressed to go out to eat but then drive around in circles because I can't decide where to go.  I wind up going home to eat.  Now that's a quirk!
And I cannot tell left and right.  All through elementary school I put my left hand, then my right hand then my left hand over my heart for the pledge of allegiance.  My family knows that if I am driving and they tell me to turn left or right, they have to point.  Ironically I can do izquierda y derecha  (Spanish) with no problem.  Weird huh?
Laugh at me.  It's funny. And I'm not embarrassed.  It is who I am.
At work when we share our little quirks with each other we find out that each of has a peculiarity to laugh at ourselves about.  We discover that we can help each other deal with our quirks and it feels good to help them.  My colleagues learned that when they ask me to go to lunch, I would reply "Sure, where are we going?"  I would go anywhere and eat anything as long as I didn't have to decide.
Our quirks are what make us real, authentic and unique.  They show we are human.  So embrace them and share them.
Empowered Women Embrace Who They Are, Quirks and All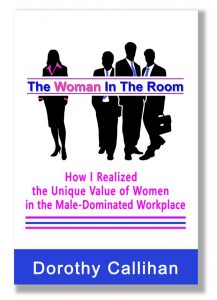 To learn more about empowered women checkout my book.