What unique value do women, bring to the workplace?
For centuries the accepted answer was "None."
Today when we answer the question, most of us can still only give a vague answer.  We hear that companies with more women perform better but we can't specifically state how or why.  Without a clear answer, women don't know how to leverage themselves at work and companies don't have an incentive to proclaim "We need to hire and promote more women!"
To answer the question, we have to challenge old ideas that are so entrenched in our thinking that we never question if they are true.  Let's begin with the Doctrine of Two Spheres, which influences how all of us live even though most of us probably never heard of it.
The Doctrine of Two Spheres states that men and women inhabit two distinct and separate spheres.
It goes on to say that men and women naturally possess the traits necessary for their sphere and that since the spheres are distinct and separate, male and female traits are also distinct and separate.  (Meaning men and women have no overlapping or shared traits)
For centuries, societies relied on men and their traits to drive themselves forward.  Men were therefore attributed all the traits necessary for business success, governing, creating prosperity and conquering the world.  Giving men big. bold, strong traits helped countries, societies and industry project their power.  It is these traits we see listed in the common male stereotypes.
To maximize the distinction and separation between men and women, women were assigned the opposite traits as men.  This made men seem even more powerful and established the superiority of male traits.
When women entered the male-dominated workplace in the late 20th century to pursue careers on par with men, we didn't challenge the validity of the Doctrine of Two Spheres.  Instead we accepted that to have a successful career, we had to leave our female traits behind and adopt or accentuate male traits.
We created the perception that the only way women can be equal to men in the workplace is by being the same as men.  We solidified the perception that female traits are inherently inferior in the workplace and best suited for administrative, support and secondary roles (which also deserve lower pay).
After several decades, our thinking hasn't evolved very far.  We still believe male traits and behaviors set the standard in the workplace.  Consequently women are still criticized for the ways in which they act differently from men and we still receive career advice telling us to act more like men.
It shouldn't be surprising that telling women to act more like men discourages a lot of women in their careers.  I know from personal experience being told you are "a man in a woman's body" or you are a "masculine woman" based purely on your career choices is disconcerting.  It also discounts what I feel and my experiences which recognize there are many differences between my male colleagues and myself even though we have the same education and career.  For many women it is easier to stay in traditional and acceptable female roles than to be forced into an identity crisis by pursuing a career that is traditionally associated with men.
By continuing to embrace the Doctrine of Two Spheres (and other classic philosophy) we divided women into two groups – feminine women and masculine women – as if they are two distinct and separate genders.  This only compounds the confusion and issues women face.
As a woman who has dealt with this issue my entire adult life, I've developed a different perspective – one ignored by 20th century feminism.  I challenge the assumption that male traits are inherently superior in the workplace and that women need to act like men to get ahead.
A New Perspective
Like all women of my generation when I began my career in the early 80's, I was told that men excel in business.  Believing this I had high expectations of my workplace.  However, once there it took me only a few days to say, "What the Hell?  I thought you guys knew what you were doing!"
All around me I saw was chaos, crisis management, stress and lots of inefficiency.  If I had any concern about measuring up to my male colleagues, it quickly vanished.  I swore to myself that I wouldn't become part of the chaos and vowed to improve how the male-dominated workplace functioned.
I soon learned that the male-dominated workplace wasn't happy with its performance either.  There was an endless stream of new regimented management initiatives and programs that if followed, promised to solve all of the problems.  However, they all quickly fell apart and disappeared into obscurity.
To me, all of these programs failed because they tried to drastically change how my male colleagues worked.  Personally, I didn't see their work habits so much as wrong as much as they were incomplete.  I felt like there were a lot of "things missing" in what they did.  At the time I couldn't quite articulate what was "missing" so I began using the term "Swiss cheese" to describe how the male-dominated workplace "functioned" and "completed" tasks.
In my determination to improve the male-dominated workplace, I watched and listened to what my colleagues were doing and looked for the Swiss cheese holes.  Then I filled in the holes.  The actions I took felt completely natural but also amazingly obvious.
I found myself doing a lot of coordination among my colleagues which automatically put me in a leadership role.  From there I took my efforts a step further and began developing standardized processes and systems.  This set me apart from all of my male colleagues.  It also made our performance soar.
Over the years I had a nagging question – If what I was doing was so obvious, then why were't any of my male colleagues doing it too?
To answer my question I began taking notes and making lists of how my male colleagues worked and what I did in response.  There was amazing consistency across all of my workplaces and across the different industries I was exposed to.
It became clear that I was dealing with "the male" in the male-dominated workplace.  All of my workplaces had an over-abundance of male traits which immediately made me think of the Greek warning "Nothing in Excess."  It was the excess of male traits that caused the male-dominated workplace to be out of balance resulting in diminished performance, inefficiency, crises and chaos.
When I filled in the Swiss cheese holes I restored balance and performance soared.  I created balance by doing what was natural to me – applying female traits.  That is why my male colleagues didn't understand and couldn't replicate what I was doing.
This gave me a whole new perspective on the workplace.
Male and female traits compliment each other with neither being superior or inferior.  Our workplaces need both male and female traits continuously balancing and interacting with each other for greater performance.
So what traits do men and women contribute to the workplace?
Over a period of several years, I compiled, tested and refined the following list.  I presume that some of these traits are natural to each gender but others are taught or at least exaggerated by our culture.  The female trait of Abstracts in Action is a classic example of this.  Our culture teaches us that men are action oriented and women are touchy-feely.  But I know from experience women work extremely hard and this trait, once we empower ourselves, becomes Abstracts in Action and turns us from a Stepford Wife into Joan of Arc.
Whether natural or taught this list represents the male traits I consistently encountered in all of my male-dominated workplaces and the female traits I and my female colleagues actively deployed to create balance.
Male

Balance & Wholeness

Female

BLUE ZONE

PURPLE ZONE

PINK ZONE

Autonomy

Teamwork

Systems

Quality

Leadership



High Performance

Group

Tangibles in Action

Abstracts 

in Action

Task Expertise

Multi-task Management

Done!

Done Well

Linear Perspective

Circular Perspective

Ego Protection

Dispensable Ego

Train and Teach

Coach

Stress Limits

Stress Endurance

Power Over  Change

Adapt to Change

Offensively Aggressive

Defensively Aggressive

Energy Consumption

Energy Projection
A workplace that has an excess of female traits functions in the Pink Zone.  In reality there are few Pink Zone workplaces and I have never worked with one.
Likewise, a workplace that has an excess of male traits operates in the Blue Zone.  Most workplaces operate in the Blue Zone.  This is true even if there is a predominantly female workforce or female leadership because society teaches both men and women that the Blue Zone is how work gets done.
We shouldn't think of the Blue Zone or Pink Zone  as monochromatic colors.  The male-dominated workplace can be various shades of Blue depending upon its culture and how strong various male traits are.
As you learn more about the qualities of each of the Blue Zone traits, you will be amazed by how much our society favors male traits.  You will also recognize how much we are driving ourselves out of balance and how much women are participating, even leading in that effort.  It will become very clear as to why we can't effectively solve problems and why women aren't advancing.
Women can begin to understand the Blue Zone by keying in on the times they feel uncomfortable, awkward, like they don't fit in or as if their male colleagues just don't get it.  We are taught these feelings are wrong or an indication that we don't measure up.But they are really just an indicator that there is too much male energy and the workplace is out of balance.  (So, yes, we've been right all along.)  What we instinctively doubted or felt was "off' or "missing" was exactly what our workplaces need.
We haven't been told this before because women have many misperceptions and misunderstandings about how the male-dominated workplace functions.  Decades ago, when we prepared to go into the male-dominated workplace we saw it from our perspective of unempowered women in the Female Sphere.  We made a lot of  assumptions about how the Male Sphere functioned based on our skewed perspective.  Many of these turned out to be incorrect because we were on the outside looking in and not on the inside looking all around us.  We didn't accurately see men as they see themselves or as they relate to each other and their workplace.
Consequently women have focused too much on top-down power, aggression and competitiveness as the defining characteristics of the male-dominated workplace.  We didn't have the real-life experience to know that the single-most powerful trait that really influences everything in the male-dominated workplace is Autonomy.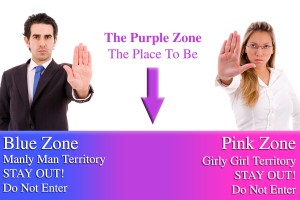 Understanding Autonomy is critical to understanding the male-dominated workplace.  It reveals to us why the male-dominated workplace doesn't function properly and why my best advice to all women who want to be successful is:
Stay Out of the Blue Zone.
Our workplaces are already too far out of balance and under-performing.  Women shouldn't continue to add even more male energy and make the problem worse.  Our power will come from making the male-dominated workplace better.
We also have to be realistic.  If we adopt male traits as our means to compete with men and rise to the top, it means we have to out-man all of our male colleagues.  Believe me, there are plenty of Terry's, Wayne's, and Dan's out there who are willing to dive into the deepest depths of the Blue Zone to out-man us.
As women, we need to stop competing with men on male terms.  The Purple Zone gives us a far more effective way to get ahead.
The Purple Zone
When women enter a male-dominated workplace and exercise our natural female traits, we blend our Pink traits into the workplace's Blue traits and transform the workplace.  We create the Purple Zone.  This is the unique value women bring to the workplace.  
To understand the Purple Zone requires changing how we think of male and female interaction.  We abandon the two static and separate sphere concept where men are suited for one kind of work and women are suited for another kind.  This is Blue Zone thinking that led us to incorrectly believe that –
Male Sphere + Female Sphere = The Whole World
But in this diagram, the Purple area depicts what is missing – an entire untapped, unknown realm of possibilities that comes from blending male and female traits.  It represents a new concept of Wholeness.
In the Purple Zone men and women have a dynamic interdependent relationship.  This concept is best represented by Yin and Yang where the male and female each comprise one half of the whole and react and evolve as part of each other.  The interaction and influence of Yin and Yang on each other creates balance and Wholeness.  This makes the Purple Zone fluid.
The Purple Zone encompasses the full spectrum of Purple as our workplace changes shades in response to the issues it is addressing.  The Purple Zone can be Indigo if more male traits are called for and Lavender if more female traits are called for.
When we go from the concept of distinct and separate static spheres to an interactive dynamic relationship between men and women, it becomes apparent that the Purple Zone  is best achieved when women and men interact across all roles and management levels.  Workplaces can't achieve Wholeness when men are in senior management, sales and operations while women are in administration, HR and accounting.  Men and women are too fragmented from each other to continuously influence each other.
People should also see themselves in shades of Purple.  If we look at Yin–Yang symbol we notice the Yin and Yang each have part of the other within them, allowing them to use the traits associated with the other within themselves.  This means men and women to achieve balance and Wholeness within themselves.
But because our culture and workplaces favor Yang or male energy so much, most of us haven't experienced working in Wholeness.  It is hard for us to even conceptualize the dynamic of Wholeness as the new reality we have the power to create.  However, we have to.
The 21st century will demand that we work in Wholeness in order to deal with the complex issues we will face.  Looking back over the many big issues we have faced so far this century reveals a failure to deal with the complex integration and inter-dependency of tasks and issues.  This is because the Blue Zone traits we favor so much and rely on so heavily are simply inadequate to deal with Complexity.  In order to deal with and solve the complex problems and issues we will face we have to make a major paradigm change where we leave the Blue Zone and transition  to working from the Purple Zone.
It is up to women to create the Purple Zone.  Men can't do it because they don't know how.  They haven't been educated to understand female traits because our traits were never thought to be valuable enough to learn about.  Consequently, they have tried for decades to create the Purple Zone by adding more and more Blue traits to the Blue Zone.  Even though their efforts are futile they keep doing it because it is all they know.
Right now only women understand our traits.  Therefore it is up to us to lead them to the Purple Zone.  
And believe me, when we lead, men will follow because they have a great big secret – they hate the Blue Zone, even more than women!
Leading our workplaces out of the Blue Zone is the next evolution of the Women's Movement.  21st century feminism is about recognizing that women are inherently equal to men – that we are one half of the Whole and just as necessary in the workplace as men.
When women embrace and assert our female traits we then have the power to lead men and the male-dominated workplace to the Purple Zone.  We create a new dynamic of working in balance, equality and Wholeness.  It is from the Purple Zone that we lead our workplaces to their greatest performance and achievements.
Empowered Women Lead The Male-Dominated Workplace To The Purple Zone!
To learn more about how women create the Purple Zone continue by reading:  From Blue To Purple